POST-RO ARSENIC CARTRIDGES
Using Aqua-Bind® MP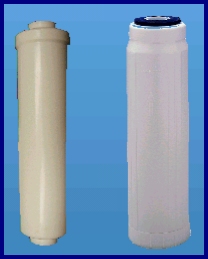 ENSURE ARSENIC (III) REDUCTION

Up to 30% of all residential Reverse Osmosis systems are sold to private well-owners, where Arsenic (III) is most prevalent:
Alhough efficient in removing many contaminants, RO does not effectively remove Arsenic (III) from drinking water. In addition, RO's ability to remove Arsenic (V) decreases as the membrane ages.
Apyron offers two unique cartridges designed to address this issue:
Model MP-2010-IL and Model MP-2508-IL:
Apyron's in-line cartridges with quick-connect John Guest fittings designed for use between the RO membrane and the hydropneumatic storage tank. Connections enable easy installation for new and existing RO systems.
Our post-RO arsenic reduction cartridges enable complete Arsenic (III) treatment, working seamlessly with residential Reverse Osmosis systems already in place to remove up to 99% of total arsenic. In addition to the added protection, it eliminates the need for costly pre-chlorination which can add several hundred dollars to the system cost.
The company's award-winning Aqua-Bind MP media is the key ingredient at work, permanently adsorbing the arsenic and preventing its release back into the environment. The media is designed to remove a wide range of arsenic concentrations. It also improves taste and odor.



TECHNICAL SPECIFICATIONS AND PERFORMANCE
<![if !supportEmptyParas]> <![endif]>

Model MP-2010-IL

Model MP-2508-IL

Media Type

Proprietary Metal Oxide Composite

Proprietary Metal Oxide Composite

Arsenic (III) & (V)

Up to 99%

Up to 99%

Cartridge Shell

Polypropylene (FDA grade)

Polyethylene (FDA grade)

Configuration

Quick-connect in-line cartridge unit with 1/4 fittings

Quick-connect in-line cartridge unit with 1/4 fittings

Micron Rating

Nominal 1-micron

Nominal 1-micron

Outer Diameter

2 inches

2.5 inches

Length

10 inches

8 inches

Flow rate

< 0.05 gpm

<0.05 gpm

Pressure Drop

< 3 psi @ 0.05 gpm

< 2 psi @ 0.05 gpm

Maximum Temp.

110°F

110°F

Cartridge Life - removes 50ppb arsenic III for:

600 gallons without monitor

*

1400 gallons without monitor*
* Tested with 50ppm salt solution and 50 ppb Arsenic (III).
After installation, discard the first tank of RO water before use.

BENEFITS
Up to 99% reduction of arsenic (III) and (V)
High capacity for long life
Convenient annual cartridge replacement
Low pressure drop
Does not leach harmful chemicals into product water
Cost effective solution
For More Information Contact:
Apyron Technologies
Arsenic Media Sales Department

3342 International Park Drive
Atlanta, Georgia 30316
Tel: 1-888-734-6292
Fax: 1-678-904-6603
products@apyron.com
Notice: Suggestions and data are believed to be reliable. They are offered in good faith with no warranties or implied warranties of merchantability or fitness for a particular purpose. Customer is responsible for determining whether use conditions and information in this document are appropriate for specific application and for ensuring compliance with applicable laws and regulations. Due to our products continuous improvement programs, we reserve the rights to change specifications without prior notice.

© Copyright 2006 Streamline Capital, Inc. Apyron Technologies is a venture of Streamline Capital, Inc. All rights reserved.