MB2000
Microbial Inhibitors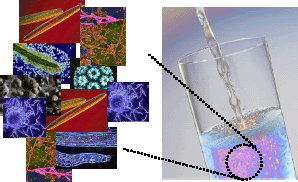 Q: What is MB2000?
MB2000 is a series of media products developed by synthesizing know antimicrobial agents such as silver, copper, manganese, and zinc with various metal oxides. custom formulations provide granular or powder products for use as an active ingredient in a wide range of water purification devices.

Q: Why choose MB2000?
Through it's novel method of materials synthesis, Apyron can create a wide range of microbial inhibiting products that have unique physical and chemical properties such as surface area, porosity, morphology, metal dispersion and distribution, etc. By manipulating these properties, Apyron's technology offers several key advantages:
Flexible Solutions - Products can easily be tailored to work with individual applications. Safety - Products are safe to handle, do not generate hazardous by-products, and can be designed to meet stringent regulatory standards. Broad Coverage - Biocidal and biostatic effects achieved on a wide variety of organisms.
Q: How does it work?
MB2000 exhibits bactericidal and bacteriostatic properties through a variety of mechanisms. Chemical and physical interactions between the organism and the metal oxides as well as metal ions can quickly produce synergistic reactions affecting cell replication, inhibition of electron transport, and disruption of overall organism functions.

Q: What types of organisms have been tested?
The media has been tested successfully with many different types of microorganisms including bacteria, yeast, algae, and some viruses. Both pathogens and non-pathogenic organisms such as heterotrophic plate count (HPC) bacteria have also been successfully treated. Specific pathogenic and surrogate pathogenic organisms successfully tested include E. Coli, Pseudomonas, Salmonella, Camplyobactor, Klebsiella, Cholera, Legionella, MS-2 phage, Poliovirus, and Rotavirus.

Q: What applications can it be used for?
The MB2000 series products are ideally employed as ingredients or active components in a variety of applications and manufactured devices for microbial control in the point-of-use, commercial, and recreational markets. Specific examples include point-of-use (POU) home water filter cartridges, beverage applications, reverse osmosis (RO) systems, whole-house point-of-entry (POE) treatment systems, spas, and recreational water filters.

Q: What products are available?
The MB2000 series of products can be formulated in a variety of shapes and sizes, designed to meet the performance expectations demanded by the customer, ranging from granular to powder formulations.

The MB2000 series media alone have not been tested for efficacy on pathogenic oocysts such as cryptosporidium or giardia. Mechanical filtration, through a variety of means remains one of the most reliable commercial methods of removing these organisms and is recommended.

Q: Can it be used with other media or treatment technology?
Yes. Because the media can be custom designed in many different formulas and particle sizes, the products are very amenable to blending with other types of adsorbent media, activated carbon, ceramic products, and others to create unique multifunctional final products.

Q: What types of claims can be made?
Apyron scientists and engineers can meet the demands of specific applications by synthesizing specific products. Numerous tests support both bacteriostatic and bactericidial activity with these products. Specific performance claims are however, very application dependent, based on the end use, product type, and amount of antimicrobial used, contact time, water profile, and regulatory requirements. In addition to recently receiving some NSF International certifications, Apyron is pursuing USEPA registration of these products for domestic use where specific health-related claims are desired.

Q: What can affect the product's life span?
Product life is designed to meet each application's demand and can be customized to achieve maximum economic and operational performance expectations.

Q: Where can I purchase MB2000 products?
Apyron Technologies is the proprietary distributor for MB2000. Call Apyron's technical team to find out more about how MB2000 can be used in your drinking water application at 678-904-6600.

For More Information Contact:
Apyron Technologies
Arsenic Media Sales Department

3342 International Park Drive
Atlanta, Georgia 30316
Tel: 1-888-734-6292
Fax: 1-678-904-6603
products@apyron.com
Notice: Suggestions and data are believed to be reliable. They are offered in good faith with no warranties or implied warranties of merchantability or fitness for a particular purpose. Customer is responsible for determining whether use conditions and information in this document are appropriate for specific application and for ensuring compliance with applicable laws and regulations. Due to our products continuous improvement programs, we reserve the rights to change specifications without prior notice.

© Copyright 2006 Streamline Capital, Inc. Apyron Technologies is a venture of Streamline Capital, Inc. All rights reserved.