MB2000 Microbial Inhibitor
Antimicrobial technology for nuisance and disease causing microorganisms
in drinking and industrial process waters

MEETING THE CHALLENGE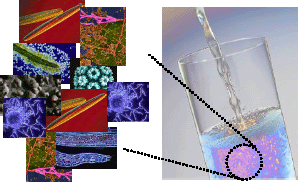 The destruction of bacteria and viruses has long been a primary concern in the treatment of potable and industrial process waters world-wide. With increasingly sensitive process equipment and an increased awareness of the health impact on people with depressed immune systems, the need to control both disease causing and nuisance microorganisms in water has heightened. Further, the need to control these and other microorganisms is now being demanded in additional arenas such as air circulation systems and common household products like fabrics and plastics.

Despite the reliability and cost-effectiveness of chlorine, chemical alternatives have several disadvantages including the formation of carcinogenic by-products as well as imparting an unpleasant taste and odor at the tap. Other treatment alternatives frequently used can also be ineffective on common microbes and require pretreatment or long contact times.

Effective on a wide range of microorganisms with fast acting results, Apyron's MB™ 2000 series of product materials can meet industry and consumer needs in a cost-efficient and time-sensitive manner without producing the negative side effects associated with current methods.

CLEAR TECHNOLOGICAL ADVANTAGES

To meet these challenges, Apyron has transformed two years of concentrated research into a series of products with superior antimicrobial activity. Apyron's MB 2000 line of products have been proven effective with a > 99.9% reduction of organisms such as E.coli, Klebsiella, Pseudomomas, Legionella, Salmonella, Campylobactor, MS2 virus, HPCs, and others. The antimicrobial media is manufactured as a granular or powder product and often custom designed and formulated into specific devices or end uses for a wide range of applications.

TECHNOLOGY ADVANTAGES INCLUDE

Requires short contact time Effluent water achieves EPA drinking water standards Imparts no residual odor, undesirable taste No carcinogenic or toxic by-products Bactericidal and bacteristatic effects Easily integrated into conventional equipment and devices Oxidation resistant Effective over wide range of microorganisms Easy to handle Long shelf-life Safe to handle, chemically stable No sophisticated instrumentation or controls Effective over broad pH range and temperatures

CUSTOM SOLUTIONS

Through the use of its patent pending proprietary technology, Apyron Technologies, Inc. offers a reliable and flexible solution to control a wide range of disease causing and nuisance pathogens, viruses, yeast, and other microbes. Apyron's amtimicrobial media are manufactured to customer specifications and easily integrated into most water treatment systems, air circulation systems, and coating applications among others. Potential applications include:

Water Treatment Applications

Home water systems (POU) Filters for POE Carafe, carbon blocks Specialty in-line filters Industrial membrane pretreatment Food and beverage postmix systems Pools & spas Outdoor / recreational purifiers Dental and hospital devices
Air and Other
HVAC systems for home, office, airlines, and confined areas Industrial air treatment Surface coatings including: Plastics and molded products Fabrics Pharmaceuticals Paints Detergents & cleaning agents
PROVEN PERFORMANCE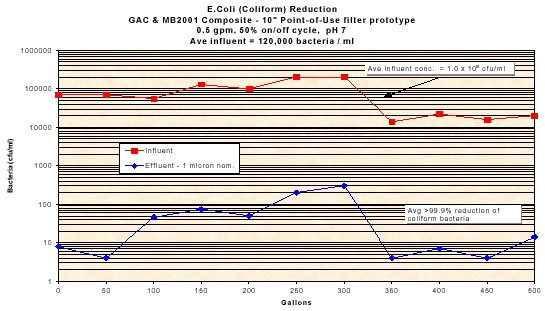 Performance of custom designed POU cartridge for drinking water applications. Example shown is carbon and MB 2000 composite for added microbial protection in a 10-inch countertop device.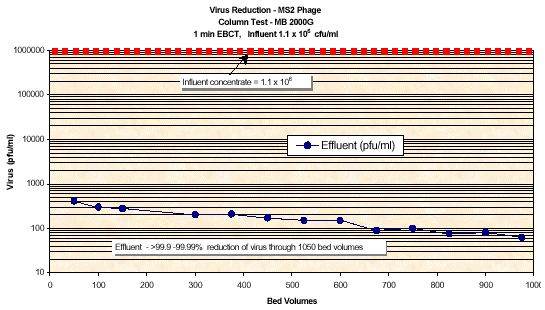 Over 3-4 log virus reduction using a common pathogenic surrogate MS2 phage. Success has been demon-strated on pathogenic viruses with the MB 2000 technology.
For More Information Contact:
Apyron Technologies
Arsenic Media Sales Department

3342 International Park Drive
Atlanta, Georgia 30316
Tel: 1-888-734-6292
Fax: 1-678-904-6603
products@apyron.com
Notice: Suggestions and data are believed to be reliable. They are offered in good faith with no warranties or implied warranties of merchantability or fitness for a particular purpose. Customer is responsible for determining whether use conditions and information in this document are appropriate for specific application and for ensuring compliance with applicable laws and regulations. Due to our products continuous improvement programs, we reserve the rights to change specifications without prior notice.

© Copyright 2006 Streamline Capital, Inc. Apyron Technologies is a venture of Streamline Capital, Inc. All rights reserved.